Scary Stories 3: More Tales to Chill Your Bones is the third and final book in Alvin Schwartz "Scary Stories to tell in the dark" series. The illustrations are done by Stephen Gammell. It was first published in 1991.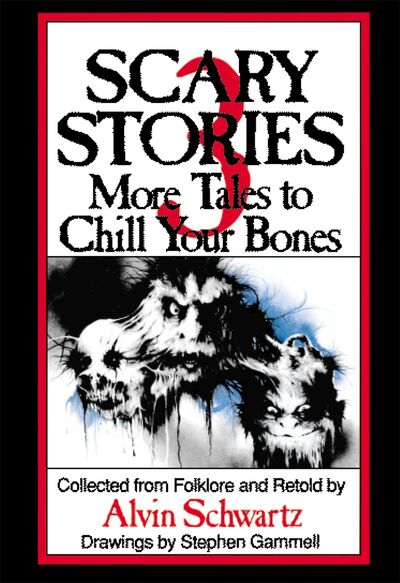 Chapters
There are 25 short stories in all. The stories are broken down into six chapters. Boo Men precedes of all these stories.
When Death Arrives: When Death arrives, it usually is the end of the story. But in these stories it is only the beginning.
On The Edge: You will say that these stories could not happen. Yet some say they did happen...
Running Wild: A young child is stolen by wild animals. For some reason the animals raise the child instead of eating it. It learns to make the sounds they make. It learns to eat, run, and kill the way they do. After a while it only looks human.
Five Nightmares: An artist painted some pictures. A boy got a new pet. A girl went on vacation. Everything was normal. Then nothing was.
What is going on here?: When bottles began popping and furniture began flying all over the house, there were many explanations. But none of them were right. Then someone had a scary answer that could involve you.
Whoooooooo?: There are four ghosts, a ghostly monster, and a corpse in this chapter. But the stories about them are funny, not scary.
Gallery
Illustrations not related to any of the stories.
Community content is available under
CC-BY-SA
unless otherwise noted.